Frequently Asked Questions
Pick a question from the list below or use search box
How can I buy Quan products?
---
The easiest way to buy our products is to find a dealer near you using contact section of our webpage. All our dealers have showrooms where you can touch&feel the product before making the final decision. Most of our dealers regularly organise live cooking events, where you can try out our products and learn how to use them creatively. Our distributors take part in trade fairs, where you can see the products in real. For more information about such events follow us on facebook.
---
How to handle 'rusty' products?
---
Our 'rusty' products are actually made out of Corten, which is a kind of weathering steel. The material forms a protective layer on its surface (which looks like rust) to prevent further corrosion. You can learn more about the process on Wikipedia. It is important to note that the process of forming of the protective layer may take up to six months, during which the surroundings may get dirty or stained. To prevent it from happening use protective foil on your terrace floor.
---
How to cook on a woodfired grill?
---
Cooking on a woodfired grill is a totally different experience when compared to traditional charcoal bbq. This kind of cooking is sometimes called 'plancha' (from Spanish) or 'tepanyaki' (Japanese). First you start a fire in the firepit and wait for the steel top plate to heat up (which takes approximately 30 minutes). Once the top plate is hot you are ready to cook. You can see what it's like on a video below: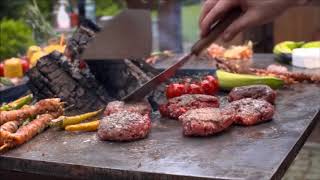 ---
What are the differences between Quan Line, Quan Premium Line and Quan Professional Line?
---
​​​​​​Top plate size (cooking surface area) - Quan Line comes in 2 sizes: 60x60cm (Small) and 80x80cm (Medium and Medium Island). Premium Line comes in 2 sizes: 80x80cm (Medium) and 100x100cm (Large and Rolling Kitchen). PRO comes in one size: 120x120cm.
Available colors/finishes - Quan Line comes in 2 colors: Corten or Carbon. Premium Line comes in 3 colors: Corten, Carbon or Silver. PRO is available only in grey.
Features - Quan Line has double bowl (firepit) and simple airflow adjustment. Premium Line additionally is equipped with removable ashtray and is compatible with a number of accessories. PRO Line additionally is equipped with castors.
Materials - Quan Line is made of 1.5mm thick steel and has 10mm thick top plate. Premium Line is made of 2mm thick steel and has 15mm thick top plate. PRO Line additionally has 20mm thick top plate.
---
What product colors are available?
---
Premium Line is available in Corten (rusty-like weathered steel), Carbon (powdercoated in black paint) and Silver (stainless steel).
Quan Line is available in Corten and Carbon.
PRO Line is available only powdercoated in grey.
Our wood is an African kind of hardwood called Iroco, protected with marine-grade paint.
Whenever granite is used it will be very dark, graphite or black. The actual kind (and therefore final color) of granite may vary, because it is a natural product imported from India. However, we always make sure that in each individual order only one kind of granite is used.
---
I've lost my instruction manual!
---
Don't worry. You can download it from here.
---
Where and how are Quan products manufactured?
---
Quan Garden Art is a European brand. All products were designed in Poland and are manufactured at our own production plant in Lodz, Poland and at our cooperation partners in Europe.
Our Polish production plant was founded over 20 years ago and currently employs 100+ production employees specialised in metal fabrication. It utilises the latest production technologies including CNC fabrication and laser cutting, all according to strict quality and environmental policies.
---
Fire plate sizes and product names explained
---
We have unified and simplified the relation between fire plate size and product name accross all our product lines. Currently there are 4 fire plate sizes: - Small: 60 x 60cm - Medium: 80 x 80cm - Large: 100 x 100cm - Professional: 120 x 120cm. These sizes are now included in all model names of our products, which makes it easier to compare them. The only exception from this rule is The Rolling Kitchen, which always was and always will be equipped with a large fire plate 100 x 100cm.
---
My top plate corroded
---
Even though your instruction manual explains how to avoid corrosion on your top plate, it is still possible to happen. In fact it is common to see some minor corrosion after winter season. If it happens to you we have prepared a short video to show how to get rid of it. You will find the video HERE.
---
I have a problem with my Quan, but cannot find the solution here
---
If you experience any problem with your Quan product please let us know. Your satisfaction with the product is of greatest importance for us! Please contact us by submitting your question through our contact form or alternatively send us an email at: help@quangarden.art. Our team is waiting to solve your problem as quickly and conveniently as possible.
---
What are Quan warranty terms?
---
Our warranty terms are available here
---
---